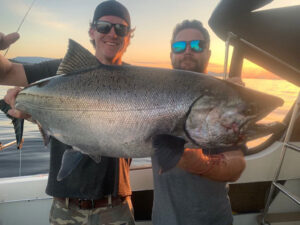 All Things Considered!
Over the past two weeks, Reel Time has encountered large numbers of Chinook salmon in Nanaimo waters. Our four and six hour charters have been producing between 8 to 12 fish respectively. Average size of these fish is between 8 to 12 lbs with some fish coming in at the mid to high teens.
Chinook salmon are scrappy, beautiful and a thrill to bring to the boat. And though the Chinook salmon fishery is open to catch and release only during the months of May and June, the excitement of hooking, landing and releasing one of these magnificent creatures is life-giving. All things considered (the environmental changes and the challenges Chinook face), the opportunity to go out and fish for these salmon is a gift. And, to help ensure that this gift is one that others can enjoy for generations to come, Reel Time Fishing Charters and Marine Tours donates 5% of every charter back into salmon enhancement projects through the Pacific Salmon Foundation.
Going to be visiting the Nanaimo area soon? Take in an adventure of a life-time! Experience the Wonder, Invest in its Future.