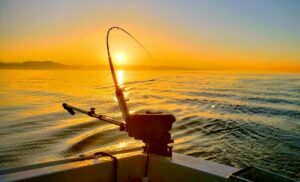 Vancouver Island Salmon Specials with Reel Time Fishing Charters & Marine Tours
The alarm sounds. Finally it's 6 am. Jumping out of bed, you quickly dress in layers of warm clothing. Grabbing your favorite coffee mug, you open the fridge door and pull out a small bag of snacks and beverages. Wallet, keys, cell phone and fishing license, that's all you will need today!
After a quick stop at the local coffee shop, you head down to Nanaimo's waterfront where the first rays of light awaken a new day. As you walk towards the dock in the cold stillness of the morning, you notice the only other sound, the gentle gurgle of a boat motor. With a light skip to your step, you wonder what it is about salmon fishing that stirs the hearts of both young and old.
Captain Turk greets you with his usual enthusiasm. After years of guiding, he's as excited about the adventure as you are. It's been a number of years since you've last fished with him so he goes over the safety features of his new ride, a 26ft Hourston Glascraft. It's truly the angler's dream boat: lots of deck space, a full galley with cabin heat, a stand-up head, the latest in fishing electronics and a fly-bridge. He unties and pushes off. We are on our way.
Leaving Newcastle Channel, the engine suddenly roars to life as the boat gets up on plane leaving docks and doldrums behind. Rounding the corner of Newcastle Island, you are greeted by a shimmering orange sun piercing through the early morning mist.
Minutes later, Captain Turk slows to a stop near Clark Rock. Turning off the main, he drops the trolling motor and fires it up. Checking the chart plotter he says with a smile, "We're here!" You take in the quiet beauty of the place wondering the last time the morning air smelled so satisfying. This is the life! The moment is completed by the sound of reels peeling out line as Captain Turk drops the gear down. With a grin, he says, "Let the fun begin!"
Every fishing charter is a new adventure. Each trip is a memorable experience and gift. Here on the West Coast of British Columbia, we are still privileged to fish for the Kings, Chinook Salmon. They fight good, look good and taste good. It is why 5% of each trip goes back into salmon restoration projects through the Pacific Salmon Foundation. As another year begins, book a life giving trip with Reel Time Fishing Charters & Marine Tours. Experience the wonder. Invest in its future.