Shore Leave: Ocean Retreats For Leaders & Team Building Ideas.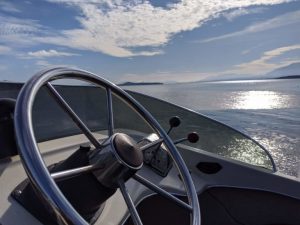 Leading in today's fluid culture requires courage, tenacity and wisdom.  It also requires time away to rest, renew and re-imagine.  The primary focus of this charter is to provide leaders a temporary retreat from the hustle and bustle of everyday cooperate, business or managerial life.  Have some fun.  Sit back and enjoy the scenery and wildlife found in the local waters surrounding Nanaimo.  Discover the cities rich history of commerce and social life that dates back almost 200 years ago.  Or  include some fishing to mix it up a little.
Though this charter is designed as a retreat for those in leadership positions, it could also be used as a team-building event with fellow employees.  As such, Reel Time Fishing Charters & Marine Tours offers special pricing as a way of encouraging and supporting businesses.
For more information about this charter, click the tab "Aqua Church Charters" or call us today at 250 667 6950