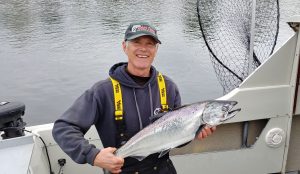 COVID 19 Response from Reel Time Fishing Charters.
How do you keep a song bird from singing?  How do you keep a bumble bee from visiting a flower?  How to you keep a timber wolf from howling at the moon? Or, how do you keep a fishing and marine tourist guide from taking people out on the water?
In response to the COVID 19 pandemic, I, like so many others in this country, have closed down our business until further notice.  For someone who enjoys socializing, loves fishing and takes pride showing off the breathtaking beauty found along the coast of British Columbia, this has been the hardest thing I have done since starting the business.  A very difficult decision!  Yet, one I believe to be the right decision.
How long this pandemic will last is yet unknown.  But one thing is certain!  It will affect the lives of all of us emotionally, financially and for some of us, physically.   In these difficult times though, my hope and prayer is that this pandemic will show the best side of humanity, and not the worst.  Let's show love to each other and work together as we face this great challenge.  As one wise guy once said, "this too shall pass."  And when it does, life will resume, hopefully, better because of it.
In the meantime, stay as safe, sane and healthy as you can.  Our thoughts are with you all.  For all further updates about the remaining season, visit our Facebook page found at the bottom of our website.
Regards
Andrew Turkstra
Owner and operator of Reel Time Fishing Charters & Marine Tours