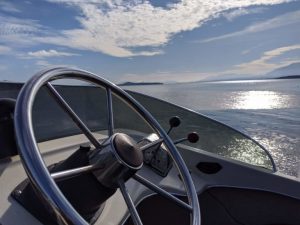 COVID-19 Stress Busters: Story Time with Reel Time Fishing Charters & Marine Tours.
Story #1: The Shark that became a Halibut
I have heard it time and time again: "I could write a book about all of the crazy things I've experienced in my years as a fishing guide."  The problem is, not many of us have had the time until now.  With most of us holed up in our homes due to the COVID-19 pandemic, perhaps the time has come to tell these stories of fish and of life.
My name is Andrew Turkstra but most people call me "Turk."  Ever since I can remember, I have lived a life of adventure.  At 6 years old, I tracked down and caught a ring necked pheasant with my bare hands.  At 12 years old, I fell through the ice and almost drowned trying to retrieve my cousin's arrow.   At 16 years old, I was expelled from high school for riding my motorcycle around the gym during a school assembly.  At 26 years old, I won my first road race behind the wheel of a Formula Ford racing car in Norfolk, England.  At 36 years old, I started a unique church which some considered a non-church.  And at 55 years of age, I began a business called Reel Time Fishing Charters & Marine Tours, a business that has forever etched in my mind images and stories of life on the waters of the Pacific Northwest.
My first fishing story begins with a group of three anglers and myself anchored 50 kilometres off the shore of Ucluelet in beautiful British Columbia.  Enjoying the warmth of a sunny afternoon and the soothing sound of water gently lapping against the side of my boat,  there we were, eating, drinking, talking, simply sharing life together while keeping a hawk-eye on our rod tips.  And then it happened.  A tap on the rod tip!  Another tap!  And then slam as the rod bent over so hard I could barely get it out of the rod holder.  "Fish on!" I shouted as I handed the rod over to one of the anglers in our group.  Fight on as the rest of us watched in awe.
Knowing it was big, I grabbed for my harpoon as my guest wrestled with the fish.  The rest of the group peered over the side of the boat waiting and watching.  Finally, after a great fight, the fish slowly came to the surface.  "It's a shark!" yelled one of my guests. And it was a shark, a very large brown shark.   Surprised, I dropped the harpoon, grabbed my knife and reached out to cut the line.  But the shark had other ideas.  Sensing my presence as I neared the line, the shark made a mad dash for the bottom, line peeling off the reel.  Reaching the bottom, it stopped.  Stunned by such brute power, the angler looked at me in shock and said, "You can't seriously want me to bring that fish back up again."  "Yes," I said "there is some expensive gear attached to that line and I want it back."  By the way, did I say I was Dutch?
After resting a few minutes, he sighed and then started the epic battle once again, his friends egging him on only as friends know how.  Not wanting to miss my opportunity to cut the fish loose, I stood ready with knife in hand.  But when the fish came up this time, there was even a greater surprise.  "Holy shit," I exclaimed, "it's a halibut!" Dropping my knife and reached for the harpoon which was laying somewhere on the deck floor of the boat.  Finding it, I raised it in the air waiting for the precise moment.  Steady, ready, aim and plunge!  And then, thrash, splash, a pulling of rope and finally calm.  Minutes later, the fish was in the boat.
Once everything had settled down and the fish was in the cooler, I turned to my guests and said "Listen, I know I've been on the water for weeks straight, but I'm pretty sure I saw a shark the first time."  Though none of us really knew what had just happened, they all agreed, it was a shark that had gone down and a halibut that had come up. Good, I thought, At least I'm not going crazy!
Most who heard our wild tale that evening simply rolled their eyes in disbelief.  But there were others who were less skeptical.  Maybe, just maybe, a hooked shark could have swum back to the bottom, spit the hook only to have it inhaled by a hungry halibut waiting nearby.  They were open to believing in the possibility of something that seemed impossible!
In the face of today's global pandemic, many of us face situations that seem impossible.  How will we pay for things like mortgages, utilities, credit card balances or even our health?  How will we survive these and all the other challenges heaved upon during these frightening and uncertain times?  I don't pretend to have the answers.  But I do believe it is possible for humanity to see a new day and even emerge a better civilization as a result of it.  We are strong.  We are capable. We will get through this.  United in love for one another, let us work toward that end.