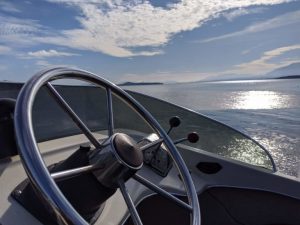 COVID-19 Precautions aboard Reel Time Fishing Charter & Marine Tours
At Reel Time Fishing Charters & Marine Tours, our commitment to you is a service that is safe and enjoyable. As such, our Fishing Charters and Marine Scenic and Wildlife tours will include the following:
Private Charters (groups no larger than six consisting of family members & close friends only)
Face Masks (face masks will be provided for our guests and worn by our captain)
A sanitized boat (all touch points to be disinfected before each trip).
A handwashing station (our boat offers running water, a sink and soap for our guests to wash their hands after handling fishing or sight-seeing gear).
A COVID Questionnaire (all guests who book with Reel Time will be asked whether they have experienced or been exposed to COVID-19 symptoms such as fever, cough, sore throat or headache).
A no-hassle reimbursement of deposit (if for some reason the trip has to be canceled, we will reissue your deposit).
The summer of 2020 will be forever remembered as different.  At Reel Time Fishing Charters & Marine Tours, our desire is to replace the fear factor with the fun factor by ensuring a safe environment.  If you have any other questions or concerns, please do not hesitate to contact us.
Yours Truly
Captain Turk
Owner and operator of Reel Time Fishing Charters & Marine Tours