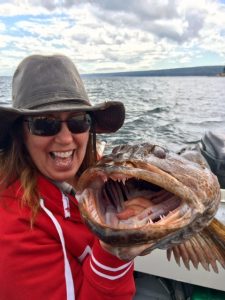 July 2020: Nanaimo Fishing Report from Reel Time Fishing Charters & Marine Tours
Fishing in Nanaimo has been stellar.  And so has the scenery and wildlife.  The latter is easily missed when your eyes are focused on the rod tips.  Take a moment to look around, and it is amazing what you will see.  A couple of weeks ago, our group was stunned by nests in the rocks where dozens of Pelagic Cormorants were nursing their young.  Another group was astounded by the number of Stellar Sea Lions congregating on Protection Island.  On our last trip, we were all taken aback by the myriad of sun rays breaking through some storm clouds.  Every day offers something new, including the excitement of fishing.
As I often say to my guests, "it wouldn't bother me if I never reeled in another fish, it would be the hook-up I'd miss."  And over the past few weeks, there have been some great ones.  From deep strong pumps to light little tugs to rod tips completely bending backwards signaling a furious fight, we've experienced it all.  In fact, not only have we hooked some large Chinook in the high teens and low twenties, we've even managed to put a few nice sized Lingcod aboard as well.
Looking to enjoy some fantastic fishing as well as some breathtaking beauty?  Book your next marine adventure with Reel Time Fishing Charters & Marine Tours.  With convenient moorage and parking, a safe and comfortable ride (our boat sports a full galley, stand-up bathroom, and flybridge), over two decades of experience and a fun and friendly captain, chances are good you won't be disappointed.