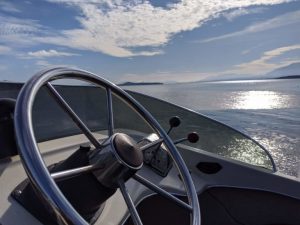 Spring Break 2020: Things To Do In Nanaimo
Looking for something to do over spring break? How about a mini cruise exploring the inspiring sights and stories found in and around the Nanaimo Harbor and Gulf Islands? How about a nature walk or a sea-side stroll along the many trails and beaches found places like Newcastle or De Courcey Island? Or how about a little fishing for those fantastic Chinook salmon which look so good, fight so good and taste so good?
Yes, we are living in the midst of a chaotic time. But we still need to live, love and enjoy those people and places that can often bring perspective, peace and even hope! In fact, addressing the province of British Columbia in the midst of Covid 19 crisis, BC's provincial Health Minister Dr. Bonnie Henry even made mention of this.  Taking what we know to be the necessary precautions, she suggested we continue our daily lives.  "Go outside and play with your family."  "Go out and experience what we have here in B.C. right now."
If we at Reel Time Fishing Charters and Marine Tours can help bring some Spring back into this year's Spring Break by sharing the grandeur and vitality that comes with time spent in our great outdoors, let us know. We offer a variety of fishing adventures as well as 3 distinct scenic and wildlife tours that leave from Nanaimo.  In this difficult season most of us will never forget, let us work together at creating life-giving experiences we'll always remember.