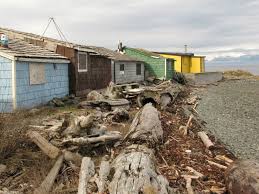 Nanaimo Boat Tours and Fishing Adventures with Reel Time Fishing Charters & Marine Tours
Nanaimo is a great city to visit.  It has a very rich and unique history. I was explaining this to a group who had booked a fishing/scenic and wildlife tour just the other day.  Passing a tiny little island filled with tiny shacks, I asked members of our group if they ever thought about living "off the grid".  No water, sewer, hydro, garbage or recycling pick-up.  And no property taxes either!
That was the thought behind a group of fisherman who built a number of shacks on a little peninsula known as "Shack Island" shortly after World War II.  With city taxes continually going up, a group of local fisherman decided they had had enough.  Moving to what was considered "the boonies" in Nanaimo, these families built tiny shacks to evade city taxes.
Today, people still occupy these shacks, mostly as summer getaways.  The structures may pass from family member to family member but may not be listed.  They can repair these small homes.  However, if an natural disaster takes them down, they can not rebuild.
This is but one of the stories we tell aboard our fishing and scenic tours.  It is one of the great stories that make up the unique history of Nanaimo.  For a great fishing adventure along with some great stories, sights and wildlife viewing, book your next boat tour and fishing adventure with Reel Time Fishing Charters & Scenic Tours.  We take pride in the history of Nanaimo.  We also have a great reputation of putting our guests into fish.  Book your next fishing adventure and historical scenic tour today and find out why so many people love to visit Nanaimo.  Visit us on Facebook or check out our website at https://reeltimewestcoastcharters.com