Wildlife Tours Vancouver Island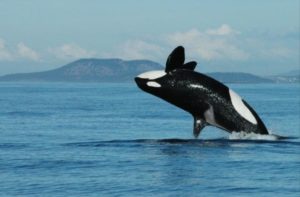 "Killer whales" I shouted to my guest at the back of the boat. As they turned to look, two of them purposed directly in front of us. Moments later, it was three of them. And to my surprise and worry, they surfaced and dived no more than 15 meters in front of my bow. With our fishing gear down at approximately 30 meters I held my breath thinking that at any second, my downriggers were going to be ripped off the back of my boat. To my surprise, one whale surfaced right beside us, making what seemed eye contact with me. The other two were never seen again. And not even the faintest bounce on our fishing gear.
This is but of the many stories of Killer Whale encounters I have had during on our marine charters from Nanaimo. But they are not the only whales we see. Over the past decade, Grey Whales and Humpback whales are starting to return to strait. Schools of white-sided dolphins are also becoming a more common sight. Our seal population is said to be the greatest in the world
Unknown to so many is the richness of marine life that inhabits or migrates through the "Strait of Georgia" or the "Salish Sea", the body of water that separates Nanaimo from mainland British Columbia. Rich in biodiversity, it is recognized as one of the world's greatest inland seas. Home to the world's largest octopus, five different species of salmon, a variety of colorful rock fish, numerous species of shark, toothed and baleen whales as well as flocks of coastal sea birds, the Salish Sea is teaming with life. Though this vast array of life is not usually seen during our charters, we are often gifted with encounters of wildlife such as harbor seals, stellar sea lions, white-sided dolphins, killer whales, grey and humpback whales, cormorants and eagles. Customize your charter to include a little fishing or a longer stay at one of the islands we stop at and chances are good you'll encounter one of the many species of salmon or crab, flocks of coastal sea birds, various invertebrates or the colorful flora that live and grow along the beautiful shorelines. If you enjoy nature, we encourage you to experience the wonder of the Salish Sea today.