Fishing Charters in Nanaimo with Reel Time Fishing Charters & Marine Tours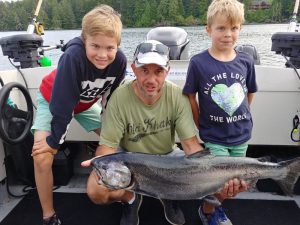 Book your next Nanaimo fishing trip with Reel Time Fishing Charters & Marine Tours.  We offer convenient moorage and parking minutes away from famous fishing grounds.  Our boat is fully equipped with all the latest fishing gear sporting a galley, cabin heat, a flybridge and a stand-up bathroom.  And our captain is fully certified with 15 years of fishing and marine experience.
The action begins in January when winter Chinook salmon begin to appear the local waters.  Fish caught during this time usually range from 7 to 10 lbs.  Due to conservation efforts, the entire fishery closes in April.  However, the month of May marks the opening of Lingcod and bottom fish.  The month of June marks the opening of Coho salmon.  And with the summer months of July and August, the Chinook fishery is once again open offering anglers an opportunity to catch the fish of a lifetime.
Our motto at Reel Time is "experience the wonder, invest in its future".  With the capable hands of captain Turk at the helm, his knowledge of the local sites and his passion for people, fishing, nature and a good time, you'll be sure to enjoy your trip.   And because we hope that our coastal beauty and natural resources will be around for generations to come, 5% of each trip goes back into supporting salmon restoration projects through the Pacific Salmon Foundation (www.psf.ca).  Call us today and book a trip of a lifetime.