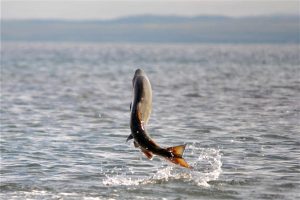 Salmon Shorts: Incredible Fish, Their Struggle to Survive and How We Can Help.
Story #1: An Epic Battle!
It was a challenging afternoon on the water.  Onboard were two sullen 17 year-old twins accompanied by their grandparents.  Out of desperation, the grandparents had booked a last-minute scenic and wildlife tour to help lift the dreary spirit of their trip.  After all, this was their annual summer adventure together.  But this year was different.  Nobody seemed to be having much fun.
I toured my group into the pristine serenity of the Broken Group Islands.  I tried everything to get the teenagers off their phones and engaged in the beauty of our surroundings.  We visited various inlets and islands where sea otters played, sea lions sunbathed and eagles soared majestically overhead.  I even pulled off a few aqua acrobats with my boat, pitching her on the port side and then the starboard side as we sliced our way through the glistening landscape.  Still, there seemed to be little interest in any of this, especially from the teenage boy.
On our way back toward the Ucluelet Channel, we came upon a famous little fishing spot called the Red Can.  "They've been catching some nice fish here," I mentioned to my group of quiet guests.   "We could drop lines for 15 minutes before calling it an afternoon," I said.  "Sure, why not," announced the grandfather, "Let's give it try."
I pulled out my rods, set up the downriggers and dropped lines.  Before heading into the cabin of my boat to study my chart plotter, I leaned over to the teenage boy and said, "Now, watch the rod tips carefully.  If you see them start to bounce, let me know."  I walked into the cabin to make sure I was exactly where I wanted to be when suddenly, he tapped me on the shoulder.  "Do you mean like that?" asked the teenage boy as he pointed to the port side rod that was doubled over.  "Yes!" I cried as I ran to the back of the boat wrestling the rod out of the rod holder and thrusting it into his hands.
This story is one of the many I have shared with my family and friends that have inspired, entertained and created lifelong memories.  And yet, the story of these magnificent fish is much more than the exhilarating experiences they provide for us.  Salmon are also immensely important to our oceans, rivers, forests as well as the fish, birds, animals and people who are nourished by them.  In fact, it has been said that salmon are one of nature's barometers regarding the health and wellbeing of our planet.
This series of short salmon fishing adventures will reveal the magnificent qualities of these fish, the current challenges they face and the opportunities we have to help them survive.   And their survival is essential.  As Mark Kurlansky notes in the opening chapter of his book Salmon, a Fish, the Earth, and the History of Their Common Fate, "If the salmon does not survive, there is little hope for the survival of our planet."  Perhaps an outlandish claim!  Yet, in my years as a sport fishing guide on the Pacific Northwest, I have seen these fish bring a sense of excitement, joy and renewal that is simply life giving.  Like the young 17 year old in whose hands I planted the rod that had been bouncing wildly in the rod holder.  "Let it run and keep the rod tip up!" I cried to him over shouts of excitement.
After handing the rod and reel to the youngster, the fish took a powerful run.  It was so strong that it pulled the rod out of his left hand.  As he was stretched out off the back of my boat hanging on to the butt of the rod with his other hand, I grabbed the back of his jacket yelling, "Don't let go of the rod!" Breaking every conceivable rule for properly landing a fish, we finally managed to put the fish aboard.  Once inside, all five of us stared at this thing of beauty.  Finally, the teenage boy looked up at me in wonder.  And then a smile appeared.  Something inside him had broken free.
Later that evening while I was cleaning up the boat at the docks, the grandmother returned to thank me.  "That's the first time he's smiled since we've been on our trip together," she said.  Knowing he seemed a little downcast, I asked, "Why has he been so sad?"  After a few moments, she looked at me and said, "This past spring, his best friend committed suicide.  He hasn't been the same since."
For a moment, that fish brought this young man a sense of joy, a reprieve from the darkness, perhaps even some healing.  It is something I have witnessed often while watching someone hook into one of these magnificent creatures.  It's why I love my work so much.
Join me over the next few weeks for Salmon Shorts, tales of incredible fish, their challenges as well as practical ways that we can all be a part of their survival.  In so doing, we may all find a little joy and healing in our own lives during these uncertain times.
TO THE READER: The remaining four stories in this series can be found on our Reel Time Fishing Charters & Marine Tours Facebook Page