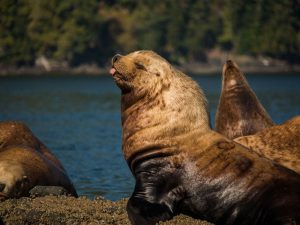 February 2020: Nanaimo Fishing and Sightseeing Adventures with Reel Time Fishing Charters & Marine Tours:
February 2020 is producing some of the best Nanaimo fishing in years.  And February is also producing some of the greatest wildlife sightings in years.  This past week (Friday, February 21), our fishing trip took us along the route of our Lasqueti Island Loop Tour, one of the recommended tours from Reel Time Fishing Charters & Marine Tours.
On our way, we were privileged to see a number of amazing sights such as colonies of Stellar Sea Lions along with one solo friend all the way from California, a California Sea Lion.  Passing South Winchelsea Island we spotted 8 bald eagles perched in various trees.  The big surprise however, a group of Puffins.  Many years ago, Puffins used to be a common sight in the Pacific Northwest.  Today however, no known colonies remain http://birdweb.org/bird/tufted_puffin.  To see them (or birds that look like them) as well as the large number of Sea Lions is confirmation that the waters in the Salish Sea are healthy.
Passing Winchelsea Island, we dropped lines on the east side of Gerald Island following the contours along the deep edge.  From there, we made our way toward Dorcas Rock, fishing in depths between 150 to 250 ft.  I know this area well and have had much success here over the years.  Today though, not even a bump.  After trying this area for 2 hours, we decided to head back towards Nanaimo where once again we spotted what looked like Puffins.  Slowing down, we tried to get a closer look.  Unfortunately, they flew away.
Once out of the Winchelsea Group, we were confronted by a fairly strong Southeast.  No problem in the bigger boat though.  We simply slowed down and enjoyed the ride while the heated cabin kept us warm. Our plan before calling it was to fish in front of what is known as the "Second Green Lawn."  With some good movement caused by the waves, we dropped lines.  On our second pass by one of my favorite spots, we hit our first fish, a beautiful 8 lb Chinook Salmon.  Our second pass produced a smaller fish that was just under the legal size limit.
After a few more passes and no more takers, we made our way towards Neck Point.  And, just before bringing up the lines, we hooked our third fish, a real fighter!  A few short runs, a couple of head shakes and he (or she) was gone.  But oh, how our imaginations began to play with us!  How big was that fish?
All in all, a fantastic day on the water.  These are the kinds of trips that make life lasting memories.  It was a little cool but nothing a few more layers of clothing (and a heated cabin) couldn't help with.
If you are visiting Nanaimo over the next month or so and would like to take a marine adventure, look us up.  Nanaimo fishing charters and sightseeing tours is what we do best!  We have the knowledge, experience and equipment for a great day on the water.