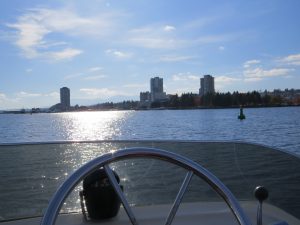 NANAIMO BOAT TOURS WITH REEL TIME FISHING CHARTERS & MARINE TOURS
Prince Charles and Princess Diana:
Nanaimo is a beautiful city with a rich culture and a unique history.  To those who live and work here, Nanaimo is known as  "The Harbor City."  In fact, during their first visit to Vancouver Island in May, 1986, Prince Charles and Princess Diana signed a declaration designating Nanaimo as "The Harbor City".
Our History:
As a Harbor City, Nanaimo is known for its protected waters and deep water ports.  Its history dates back to the early  1850's with the discovery of coal.  For almost a century, large amounts of coal were exported by boat to places like San Francisco, Alaska, Hawaii, Japan and China.  However, after WW1, the mining and export of coal began to slow.  In its place, seafood, timber and sandstone soon became the next commodities of export.
Our Growth:
As a result of this successful commerce, the population of Nanaimo grew.  But work was not the only aspect attracting people.  The many opportunities for leisure such as boating, fishing, hiking or simply strolling along the many ocean beaches and parks also became an attraction.  As the population grew, so did transportation.  Ferry service to and from the mainland increased from as little as 2 sailings after WW1 to over 20 a day by 1960.  Today, there are over 30 sailings a day from the mainland to Nanaimo and back.
As a Harbor City:
Though it is still known as "The Harbor City, Nanaimo is still a "working harbor".  It has four deep-sea births, a cruise ship terminal and two provincial ferries services at Departure Bay and Duke Point.  With its many marinas, the Harbor City of Nanaimo continues to be an active shipping center.  Today, there is still much export of wood products to many places around the world.  Centrally located, Nanaimo is also central port that services much of Vancouver Island.
Visit the Harbor City Today:
Visit the "Harbor City" on your next visit to Vancouver Island.  And while you are here, take one of the many marine adventures Reel Time Fishing Charters & Marine Tours has to offer.  Experience the beauty, history and culture of this amazing city.  Chances are good you will not be disappointed.