Scenic and Wildlife Eco Tours from Reel Time Fishing Chartersbc west coast orcas fishing charter
Starting January 2020, Reel Time Fishing Charters will be offering 3 different Scenic & Wildlife Eco Tours aboard their new vessel, a 26 ft Hourston Glascraft. Below is a description of our local tour:
Marine Tour #1: The Nanaimo Harbour & Island Tour
Duration: 3 Hours
Departure: Tour departs from the Seair Floatplane Terminal at 9:30 am or 1:30 pm.
Description: A historic, scenic and wildlife tour that includes
views of Nanaimo's most luxurious real estate,
the story behind Shack Island,
the wildlife and natural beauty of the Hudson's and Five Fingers Island ecological reserve
the infamous Snake Island,
the vibrant Nanaimo Estuary and Harbour
a short stop at either Nanaimo's waterfront where you can experience the Harbour life at one of the local cafés or a short stop at the historic Newcastle Island where you can explore tidal pools, take a short nature walk and visit the island bistro.
Costs: $350.00 plus 5% GST.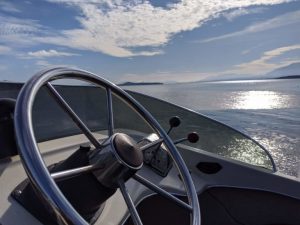 Customize this trip to include some fishing, crabbing, or longer stay on New Castle Island. To view the other two Scenic and Wildlife Eco Tours, simply check out the tab titled "Nanaimo Marine Scenic Tours & Prices." With a heated cabin, full galley, stand-up head and a flybridge from which to view the scenery and wildlife better, you be sure to enjoy your voyage.